At the Y, we know that one size doesn't fit all. That goes for memberships, too. To help meet the needs of our members and our community, we offer several categories of membership.
Membership Categories & Rates
Effective October 1, 2022 for new members.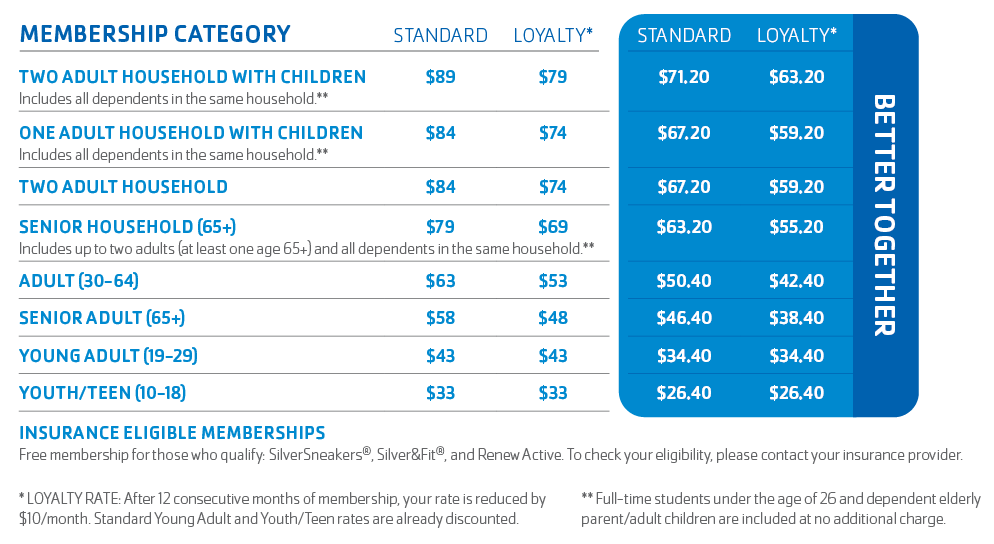 JOIN the Y TODAY
Join online or call us at 414-354-9622 to speak with one of our staff.
Membership for all
Membership For All helps to ensure that everyone belongs at the Y, regardless of income level.  The Y has a pricing model that makes membership accessible and affordable through a variety of contributions to our Annual Campaign.  The heart of the Y's mission is to serve all people in our community. 
Who is eligible? 

Any individual or family who has a permanent address in our service area and is eligible for state or government assistance. Additionally, families or individuals who may be experiencing financial difficulties are encouraged to apply.

What is Membership For All?

Membership For All financial assistance is a membership rate, available to reduce barriers to joining and participating in Y programs and services.

How do I apply? To register, fill out our online application. For questions, visit us or call 414-354-9622.
Refer a friend to join the y
Spread the news and shrink your dues! Help strengthen our community by inviting your friends to join the Y. When they join you'll BOTH save 20%. After all, the Y is more fun with a buddy!
Refer a Friend
The Y helps me maintain a healthy lifestyle while being a single mother. I'm able to participate in a variety of exercise programs, knowing my child is being watched by passionate, trustworthy staff members. By utilizing the many resources offered by the Y, I've transformed my life and outlook. I lost over 120 lbs and I couldn't have done it without the support of the Y.