Summer is almost here, and we know kids are eager to get outside and enjoy it after a really challenging spring. Due to the COVID-19 pandemic, our summer day camp will look a little different this year. We wanted to assure you though, that we've modified our day camp plans to ensure a safe and fun experience for every child – as always, the safety of our campers and staff is our number one priority. As such, we will operate within the guidelines established by the CDC, American Camp Association, Y-USA and local health departments to ensure that our kids can safely get outside, learn, connect with each other, have a fun summer to remember.
YMCA of Metropolitan Milwaukee Summer Day Camp begins June 14th!
YMCA Summer Day Camp 2021 Brochure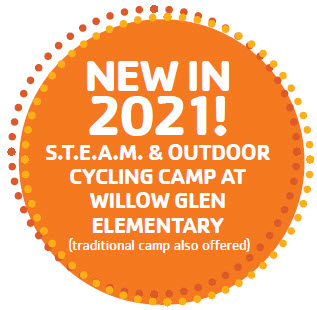 Traditional, Sports and Specialty camps will be offered at the following locations:
Rite-Hite Family YMCA* – 9250 N. Green Bay Rd., Brown Deer
Northwest Early Childhood Education Center* – 9050 N. Swan Rd., Milwaukee
Lincoln Milwaukee County Park* – 1301.W. Hampton Ave., Milwaukee
Willow Glen Elementary – 2600 E. Bolivar Ave., St. Francis
Wilson Milwaukee County Park* – 1601 W. Howard Ave., Milwaukee
* Lunch and dinner will be provided at these locations, children who attend camp at Willow Glen Elementary must bring their own lunch.
Establishing and maintaining a safe and healthy camp experience remains our top priority. Here are some of the safety protocols we will institute for camp to keep our kids & staff safe:
Group Size: Group sizes will be limited and we will respect guidance regarding camp group ratios and maximum campers per site. Camp group, once determined, will remain together throughout camp and separated from other groups.
Staff Training: Our YMCA day camp staff will go through an extensive 40 hour/week training class focused on proper cleaning and sanitation procedures, protective equipment, prevention strategies and physical distancing.
Daily Screening: All campers will be temperature-checked, and we will ask parents a set of questions about their recent health each time they drop off at camp.
Masks/Face Coverings: Masks must be worn at all times in camp, including during outside activities. The only exemptions are when eating, sleeping or if someone has a medical condition, mental health condition, or a disability that prevents wearing them from wearing a face covering .
Floor markings and signage: We will mark off safe distances throughout our buildings to help keep children appropriately spaced. Reminders for hand washing and social distancing, will be posted throughout the facility.
Activities: Activities will be modified to limit physical contact. Equipment will be cleaned between uses and/or sufficient supplies will be provided for all campers to enjoy.
Cleaning: Our whole team will be regularly cleaning to disinfect our facilities throughout the day & our facilities team will perform a deep-clean every night after closing.
If you have questions about YMCA of Metropolitan Milwaukee Day Camp please call 414-274-0759 or email daycamp@ymcamke.org.
We look forward to giving your child the summer they deserve in a safe and engaging environment. Hope to see you at camp!