Milwaukee Swims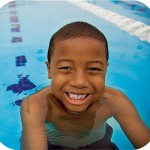 Due to an overwhelming community response during our pilot
session with the Milwaukee County Parks this summer, as well as the continuing need for this education in our community, the Milwaukee Y has extended its programming to offer the Milwaukee Swims curriculum at our Northside Y during the 2015/2016 school year.
More Info
---
Swim lessons

A wide range of swimming options for the whole family are available with swim classes that begin at 6 months of age and go all the way up to adults.
More Info
---
Swim teams

Swimmers work on competitive swimming skills such as stroke development, improving their times and working together as a team. You don't have to be an advanced swimmer to take part in the Y's competitive swimming programs.
More Info
---
Swim school

YMCA Swim School provides children in the community the access to swimming lessons to teach them the lifelong skill.
More Info
Specialty Aquatics

Try something new! From private swim lessons to safety courses for Boys Scout badges, the Milwaukee Y offers a variety of fun and unique aquatic programs to give you another way to exercise or gain new skills.
More Info
---
WATER EXERCISE

The Y offers water exercise programs, including shallow and deep water classes, low impact classes, high intensity cardio classes, and active older adult classes. Please check with your local Center for class availability.
More Info
---
lifeguard training

The Milwaukee Y offers lifeguard certification and training programs year-round. Click on the link below to visit our Safety Trainings webpage and view descriptions of the classes offered.
More Info
We enrolled Max in Parent/Child Swim Lessons when he was 6 months old and it's been a great experience. The instructors play games and sing songs, which is encouraging and relaxing for the kids. After a few lessons he was kicking, rescuing toys from the pool and blowing bubbles in the water. It really helped him get used to the water and see the pool as fun.