We believe the Y must continue to lead the way to a brighter future by following our belief that we are stronger when our doors are open to all. Our policies, practices and programs must advance our organizational commitment to diversity and inclusion. We must sustain our support for newcomers and immigrants, in partnership with our colleagues at Ys in 120 countries. We must ensure that all people — across all dimensions of diversity — feel welcome and valued as part of the Y family.
Dimensions of Diversity
This Diversity Wheel diagram represents the various dimensions of diversity. To truly be inclusive and welcoming to all, it is critical to understand the many factors that make up and influence a person's individuality. To learn about the different dimensions of diversity, click on the button below.
More Info
our Changing Communities
Communities across the U.S. are rapidly changing. As neighborhoods become more diverse, it is important that we understand who is in our communities and how best to serve their interests and needs.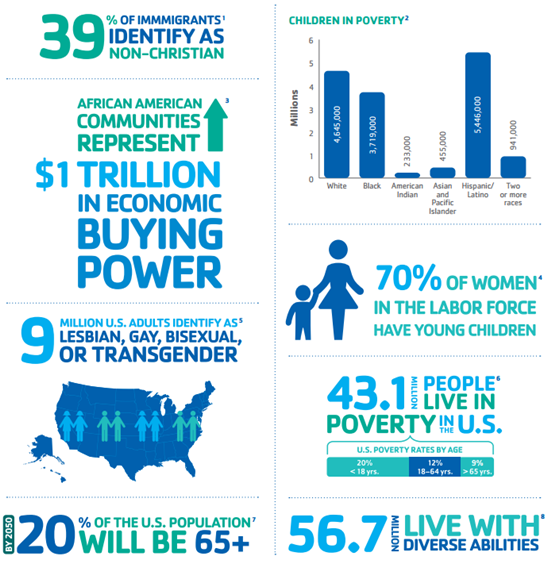 equality vs. equity – Advancing Equity for All
The terms equity and equality are sometimes used interchangeably, but while these concepts are related, there are also important distinctions between the two. Equality is defined as treating everyone the same, while equity is giving everyone what they need to be successful. Everyone should have the opportunity to be successful and live a fulfilling life. Unfortunately we don't all start off in the same situations, or have the same lifestyles, backgrounds, needs and wants. Far too many people, especially those in underserved groups and communities, lack equal access to resources, opportunities or support systems. To truly promote equity,  we must "level the playing field" by identifying and eliminating barriers, and helping to develop solutions and support systems – so that all individuals can successfully realize their potential.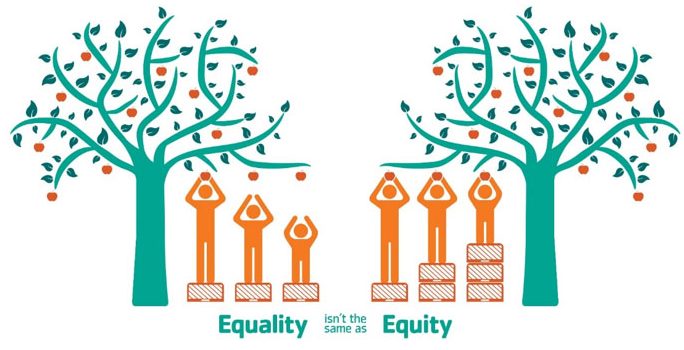 In the graphic above, the apples represent opportunities people need in order to reach their potential; the size of the individuals represents the impact that systemic inequities has on people and communities; and the boxes represent support systems that help individuals overcome barriers so they can thrive.
YMCA Equal Employment Opportunity (EEO) Statement
The YMCA does not discriminate on the basis of race, color, religion, sex, age, national origin, disability, genetic information, or other legally-protected status.  The YMCA is committed to providing an inclusive and welcoming environment consistent with its mission.