covid-19 emergency response camp
The YMCA of Metropolitan Milwaukee is offering childcare for all essential employees at the Rite-Hite Family YMCA located at 9250 N Green Bay Rd., Brown Deer. Childcare for healthcare and emergency personnel (EMT, police & fire) is being offered at Advocate Aurora St. Luke's Conference Center located at 2920 W Dakota St., Milwaukee and at Froedtert–MCW–Wauwatosa. This care will be offered until further notice, in accordance with state guidelines.  For more information or to register, click on the buttons below.
The Y is striving to serve the changing needs of our community during the COVID-19 pandemic.  If our current Emergency Response COVID-19 Camp locations do not meet your needs as an emergency response professional, please complete click on the  "Other Locations" button below, complete the form and we will reach out if we are able to meet your needs.  Thank you for all you are doing to help the community during this time.
Rite-Hite Family YMCA
St. Luke's Conference Center
Froedtert–MCW–Wauwatosa
Other Locations
fun at home activities for kids
With schools across the country closing due to the Coronavirus (COVID-19), it's important to keep kids engaged, healthy, and active at home.  We've complied the list below of virtual tours and activities you can do with your kids right from your own living room.
visit museums
Google Arts and Culture partnered with over 2,500 museums and galleries around the world to offer virtual tours of their spaces. Some of the options include New York's Museum of Modern Art and Amsterdam's Van Gogh Museum. The Louvre, based in Paris, is also offering its own virtual tour online for free.
explore national parks
For those who want to surround themselves with nature without the traveling and going-outside aspect of it all, national parks are also providing virtual tours of America's most popular parks. Virtual visitors can travel through the trails of Yellowstone National Park, as well as the Yosemite National Park.
visit the zoo
Some people count on the company of a furry friend at home, but others rely on spaces on the outside world to view them. Thankfully, spaces like the San Diego Zoo, the Georgia Aquarium and the Monterey Bay Aquarium are offering live webcam viewings of pandas, penguins and beluga whales.
gymnastics at home
Stay flexible while cooped up at home! A good gymnastics workout will stretch, strengthen, build coordination and focus, and improve gymnastics skills and it's possible to accomplish this all in your own space without special equipment. Check out these gymnastics home workouts:
NBA TOGether
The NBA launched "NBA Together," a league-wide, global community outreach and social engagement campaign to provide families, fans and the general public with the latest global health and safety information, inspire acts of caring and volunteerism and keep people and communities socially connected to our game and one another as we all cope with the impact of the coronavirus pandemic.
As part of NBA Together, we launched "Jr. NBA at Home," an interactive content series providing basketball skills and drills featuring NBA and WNBA players that can be completed individually and in limited space to help young players around the world stay active and develop their game in a safe and healthy way.  The initiative will include a series of daily posts on Jr. NBA social channels (Facebook, Twitter, Instagram) and NBA digital properties around the world that provide drills, activities and instruction to promote skill development, physical activity and character development.
Be sure to follow along @JrNBA on Instagram, Twitter and Facebook, and join the action by posting videos of your family and friends completing the drills and activities using #JrNBAatHome.
VROOM
Check out the website Vroom, which offers free activities parents can do with children ages 0-5 years, that turn shared, everyday moments into Brain Building Moments®.
y achievers
Parents and Teens stay connected to our Y Achievers program with these academic success and college and career readiness online resources.
Catch
CATCH stands for a Coordinated Approach to Child Health. By uniting multiple players in a child's life to create a community of health, CATCH is proven to prevent childhood obesity and supported by 25 years and 120 academic papers indicating as much as 11% decrease in overweight and obesity. CATCH Global Foundation has released "Health at Home" – a free set of health, nutrition, and physical education materials that require limited space and supervision. Access is quick-and-easy via Google Classroom.
To help families, CATCH has set up a Google Classroom to provide free and easy access to several of CATCH's evidence-based health, nutrition, and physical education materials. These activities require limited space and supervision, and are organized into three sections: Physical Activities, Activity Breaks and Family Health and Nutrition.
Teachers: 
Parents:
Full details and instructions are available at catch.org/pages/health-at-home.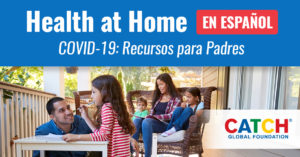 Con el cierre de las escuelas en todo el país debido al Coronavirus (COVID-19), es importante mantener a los niños ocupados, saludables y activos en el hogar. CATCH Global Foundation ha lanzado "Health at Home", un conjunto gratuito de materiales de salud, nutrición y educación física (en inglés y español) que requieren espacio y supervisión limitados. El acceso es rápido y fácil a través de Google Classroom. Los detalles completos y las instrucciones están disponibles en catch.org/pages/health-at-home-es.
YMCA Swim Lesson – Take Home Activities
Keep your children engaged in water safety with these home activities from our YMCA Swim Lesson Program.  These are activities broken down by the various skills that parents can practice at home with their children.  No pool, goggles, or swim suits necessary!